Well Folks, as I type this we are in the midst of a SPRING BLIZZARD. Power outages throughout the day and predictions of up to 1 & 1/2 feet of snow. Yesterday, I was out and about in flip flops, today I brought back the snowshoes. My plans of heading into the winery today ~ changed.
Not sure why, but when I have unexpected changes in my schedule, I have a difficult time adjusting. Don't get me wrong, I am adaptable to most situations, I just seem to be more efficient when I have a plan. I started the day off finishing up on some menus for some upcoming Spring/Summer Events at work. Once that was checked off, I decided to snoop around the new site that my daughter Miss Sarah invited me to join.
OH MY WORD! A fair warning it is addicting. Guess who I found on there? Yup, Miss Donna.
I popped on over to her blog only to discover that she too had discovered it and had been sharing the good news. What site am I referring to? PINTEREST.com. Hold on, you thought blogging was time consuming and addicting. Combine the two and WOW. Time management, Time management, Time Management.
They say if you repeat something long enough, it will happen. I am usually very efficient with my time, this site may change that. Just look at some of the things one can find will managing ones time.
Pumpkin Drop Donuts in Burlap!
Well, burlapy looking paper.
Love my Cahartt Farm Jacket ~ BUT ~
All the snooping around PINTEREST motivated me to once again pull that burlap out. Around the farmhouse I walked. Hanging it here, draping it there. NOTHING! Next! I have a wedding scheduled in August and the bride has requested a very unique cake. OK, I'll play around in the kitchen and see what I can come up with there. I pulled out all the ingredients, turn the oven on, pulled out the cake pans, and then the cake rounds. Hmmmm.... cake rounds and burlap....
Put away the cake supplies and pulled out the crafting supplies
No planning went into this
Claiming it right now ~ these are SAMPLES.
A 100% winged project
Tried two versions, not sure which I like better.
This one I used burlap from a failed attempt of something else that went through
my brain, held onto to the failed project thinking I might be able to use it somehow, somewhere.
Ooops ~ lost power, poor light.
Another power bump ~ will get better photos soon.
When I finally get out, I plan on picking up some spray poly to see if
it will help with the natural shedding of the burlap and keeping them clean.
What do you think?
Wrapped and Stenciled
or
Trimmed with braided twine
Or a mixture to compliment my mix matched every day white plates?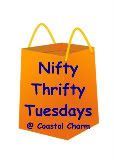 "/>